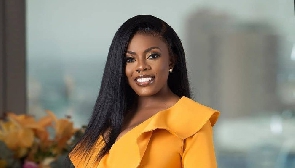 A 'stupid' question by a Twitter troll has been met with a corresponding brutal response from ace Ghanaian broadcaster Nana Aba Anamoah.
On Monday, April 3, 2023, Nana Aba Anamoah shared a video in which she was having a good time with Arsenal midfielder, Thomas Partey in a London restaurant.

The video which has been well received by football fans, particularly Arsenal supporters also attracted abusive remarks from some social media users.

One such troll is from a user with the name Rashyfaze who sarcastically and in Nana Aba's words 'stupidly' asked "Did she get home safe?"

Nana Aba Anamoah did not let it slide as she offered an even more scathing and ferocious response to the roll.

She tweeted "Yes, I did. I always feel safe around Partey. He's a perfect gentleman. Do you have another stupid question?"

Nana Aba Anamoah and Partey, per social media engagement, appear to be good friends, and the ace broadcaster during her visit to London decided to call on her good friend.
Partey was captured in a video with Nana Aba Anamoah in a restaurant in the United Kingdom.

All attempts by Nana Aba to have Partey say something to the camera is met with jests by the Black Stars deputy skipper.

When he finally agreed to say something, he took a swipe at Manchester's loss to the Magpies over the weekend.

"You are welcome, join us in celebration of United's loss," he said as he took a spoonful of what appeared to be chocolate.

His views left Nana Aba with a gaping mouth.