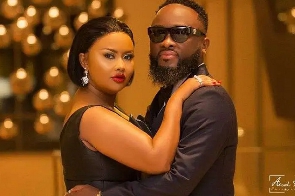 Nana Ama McBrown has openly shared her approach to pampering her husband, Maxwell Mensah, when she returns home from her demanding work commitments.
During a recent discussion on a talk show, Nana Ama McBrown candidly expressed that she sheds her celebrity status and becomes an ordinary partner and parent within the confines of her home.

"When I get home, I leave my stardom at the gate and put on my wife cloak. I am a wife and a mother when I am home with my husband.

He understands me and even though we have a maid who helps out at home, I always make sure my Husband is well taken care of. When I get home and I realize he hasn't eaten, I rush to the kitchen and get something for him to eat." Nana Ama Revealed.

She went ahead to add that all her achievements prove that she doesn't need a man in her life but she didn't allow her achievements overtake her husband.
"No matter how much I have achieved in this life, I always make sure my husband remains the head in the family. We have been married for 12 years and I have never taken a decision without his input.

"We discuss everything and find means and ways of sorting out our personal issues without bringing it to the public. My husband respects me the same way I respect him. I don't use my fame to belittle him".