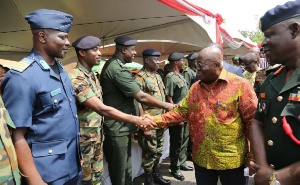 President Nana Akufo Addo has assured Ghanaians that he'll fulfill all his campaign promises before he exits power.
According to him, he did not make the many promises to hoodwink the electorate into voting for him, but will certainly actualize them to enhance the living conditions of Ghanaians.

The President made the comments while addressing personnel of the Ghana Armed Forces during their 2016 WASA held at Burma Camp in Accra on Friday, March 10, 2017.

He said in a bid to fulfill his manifesto promise made to the Ghana Armed Forces to increase the retirement age for other ranks from the current 25 years to 30 years, his administration is preparing the necessary legislation to effect the change.
"Legislative review of the Armed Forces Amendment Regulation 1986, LI 1332 has begun. The purpose of the review is to extend the serving duration of other ranks from the current 25 years to 30 years in fulfilment of the manifesto promise we made in the just ended election. I want all Ghanaians to see me as a man of my word."The President added.

He continued: "Let me reiterate that my government is determined within our means to give whatever support is required to ensure that we have an armed forces that remain the best in the region and one of the best in the world. Ghanaians want an armed forces that are professional, well disciplined, well motivated and respectful of the rights and liberties of the people. We should rise and work together to achieve this goal."