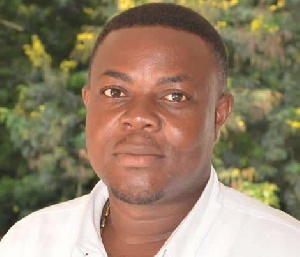 One of the three persons granted presidential pardon by former President John Mahama, Godwin Ako Gunn has indicated his full preparedness for jail any time, should the court decide to send him (them) back.
Speaking for himself, he said he has never wasted sleep over the case and he drives around fully prepared to get a call to move to Nsawam to spend his "just two months".

He revealed there are more important things on his mind than going back to jail. He spoke in an exclusive interview monitored by MYNEWSGH.com with Joynews.

"There are more important things. I will not stop what I am doing to concentrate on this case. Not for a day. I will continue doing what I am doing for the party until when the court says that hey you can go", he said.

"It's just 2 months. My luggage is always packed in my car. I travel a lot because of the work I am doing… and the campaign and all that. My luggage is always in my car. If I'm out of the region and I will have to move to Nsawam or wherever, I am ready", he added.

"I have never slept and dreamt about it before", he added for emphasis.
The Supreme Court this month began hearing on a petition filed by three Ghanaian legal practitioners against the Attorney General (AG) challenging the constitutionality of former President Mahama granting a Presidential pardon to the Montie trio.

The signed petitions and Mahama's pardon

A radio host with the Accra-based Montie FM Salifu Maase and two panelists, Alistair Nelson and Godwin Ako-Gunn were found guilty for scandalizing the Supreme court and were sentenced to four months in prison.

The three, together with the Directors of the radio station and the owner pleaded guilty to the charges of contempt and were duly sentenced on July 27, 2016.

Apart from the four-month jail term, the three were each slapped with GH¢10,000 cedis fine. Three of the Directors also had to pay GH¢10,000 each whilst the owner was slapped with GH¢30,000 cedis.
But barely a month after being in jail, the three heaved a sigh of freedom following the remission of their sentence by Mr. Mahama.

President John Mahama pardoned the three who were serving a four-month jail term for criminal contempt.

At the time, a statement signed by the then Communications Minister Dr Omane Boamah said the decision was taken on the advice of the Council of State and was on compassionate grounds, even though hundreds of party footsoldiers and top Mahama appointees signed petitions for their release.

One of the lawyers for the contemnors, George Loh, was more direct- he said the sentence was harsh and pleaded with the president to activate his powers of mercy under Article 72 of the Constitution.

The statement from the presidency at the time read:
"The President of the Republic of Ghana, His Excellency John Dramani Mahama has, in consultation with the Council of State and in exercise of his constitutional powers under Article 72 of the Constitution, remitted the remaining prison sentence imposed on three persons: Salifu Maase (alias Mugabe), Alistair Nelson and Ako Gunn who were sentenced to 4 months imprisonment and a fine of GH¢10,000.00 each for contempt of court. The remission is effective 26th August 2016

"The decision of His Excellency the President to remit their sentences on compassionate grounds follows a petition submitted to him by the contemnors appealing to the President to exercise his prerogative of mercy even as they continue to express deep remorse and regret for the unacceptable statements they made against the Judiciary.

"His Excellency, President Mahama takes this opportunity to remind all Ghanaians of the need to respect the institutions of State and exercise freedom of speech responsibly mindful of the need to preserve peace and national unity."