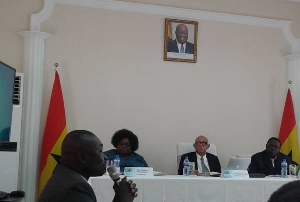 Director of Operations at the National Security, Col. Micheal Opoku has that indeed, the police did not anticipate the presence of some masked and attired men in the Ayawaso Waguon constituency on the 31st January.
According to him, the service went there on a mission to search a house which was alleged to have been stacked with weapons.

Micheal Opoku insisted that his unit did not deem it necessary to inform the police considering other units were also present and they thought it would be common knowledge that other units would be there.

'I'm not sure' was his response to the question 'Did the police know about their presence?'

He continued,

"I must state that it wasn't just us who provided surveillance. I know the BNI were there, I know there were other agencies there including the D.I, such things, we usually don't inform other people, there was no need to share this information".

"I wouldn't be surprised that the Director of Police and the regional commander in whose region the elections were held have been here and say they didn't know about the men".
Explaining further, he said his men deployed on the day were masked. The deployed men according to him, were deployed to survey the various polling centers and build confidence.



"My men were to give the public confidence that no vigilante groups whatsoever can destruct the electoral process"

According to him, National Security Operators were supplemented by civilian operatives (they are civilians trained to supplement the 35 police men who made up the SWAT team).

"They were in t-shirts, not all, most of them were in 'mofti'. The NSC people in t-shirt were part of the team that was used for the patrol", he said.