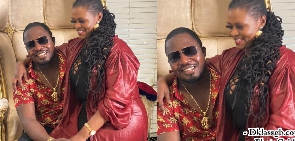 Ayisha Modi has responded to claims that she isn't Abas Siriki's wife as purported on social media.
Over the years, the popular Ghanaian socialite has been flaunting the popular Sowutuom chief cum wealthy businessman as her husband.

Identified as Abas Sariki, the said man is also reportedly in command of lands and land guards in some parts of Accra.

It is this same man that Shatta usually flaunts online as his 'godfather'.

Recently, Shatta took to social media again to flaunt Abas Sariki, but this time around, with a lady whom the Dancehall artiste tagged as his mum.

"That's my dad Abas Sariki and that's my mum," Shatta said whiles recording them in a selfie video that has since gone viral.

Reacting to this, Ayisha has stormed social media with a re-affirmation of her stance as Sariki's wife.
She said, she might not be the first wife or even the last but certainly, she is the man's favourite.

"There was someone before me. There was a wife before me and I don't have a problem with that because it is my culture. Even my mother is a second wife. It is not right for me to resist my husband if he wants to marry another wife again. I am not a timid wife; I work for my money. If you're a woman that make your own money, men will respect you.

"They won't treat you anyhow. When a man pulls out one billion from his pocket and you also pull out five billion from yours, there is respect, and that is why I am my husband's favourite. He is not just my husband; he is my brother. The women will come and go, but I will forever remain unmovable. Looks like you people are too stubborn. Stop talking about Sariki and I. We are inseparable and unshakable so stop talking about us," she stated in a TikTok live.

Ayisha established that she is extremely comfortable if her supposed husband decides to marry more wives adding that she could even get him one.

"I can even decide to marry a pretty and attractive woman for my husband if I come across one," she added.

Watch the video below:
EB/BB