I called him, gave him a strong warning – Anyidoho shares reason behind frosty relationship with Stan Dogbe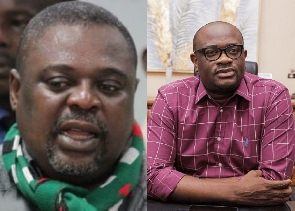 Former Head of Communications at the Presidency under the government of President Mills, Samuel Koku Anyidoho has indicated the cause of his frosty relationship with former presidential staffer, Stan Xoese Dogbe.
According to Koku, his relationship with Stan Dogbe who later became the director of communications at the presidency stems from his uncompromising stance and will to ensure that the image of the presidency was protected at all times.

Speaking to Kwame Nkrumah Tikese of Okay FM in an interview, Mr Anyidoho said he has over the years been wrongly accused of arrogating powers to himself during his time of office because he ensured the right thing was always done.

"There is a guy so-called Stan Dogbe, when we started, he was galivanting at the information ministry. Later I saw him walking around Castle (the presidency). Nobody had given him an appointment at the Castle and neither had he been given any assignment at the Castle. But all of a sudden, he was all over the place, when the president receives guests he was around. I had no problem then one morning a lady named Obuobia Darko (OB) who was at Radio Gold called Stan Dogbe that she was interviewing him to speak on behalf of the President of the Republic of Ghana.

"OB had no locus at the Castle, maybe Radio Gold gave you airtime which is okay but under what circumstance will you OB call Stan Dogbe and ask him to speak on behalf of President Mills and the presidency?" he narrated.

Mr Anyidoho who was speaking on the recent controversy surrounding a video shared by American rapper Meek Mill on social media showing him in various places at Ghana's presidency said he was compelled to warn Stan Dogbe about his actions.

"So I will call you Stan Dogbe because I won't compromise; I will give you a stern warning that as far as I am concerned you have no locus at the Castle. If you ever go on air and speak again on behalf of President Mills or the presidency you will have a big problem with me. Kwame, that is the reason why some people developed a hatred for me because they claim during President Mills's tenure I was too powerful," he added.
Meek Mill who had been in Ghana to perform at an event during the Christmas period, has courted public backlash after he posted a promo video shot at the Jubilee House.

In the video shared by the rapper on his Instagram page, Meek Mill is captured in different places at the presidency, from the frontage, through the main corridors, in the main conference hall – at a point positioned behind the presidential lectern - and later in a sitting area rapping.

According to his critics, the actions of the rapper not only desecrates the presidency but also raises security and morality concerns.

Meanwhile, Meek Mill has since deleted the video and issued an apology to Ghanaians. The rapper in a series of tweets said he never meant to disrespect Ghanaians or the presidency.

GA/WA