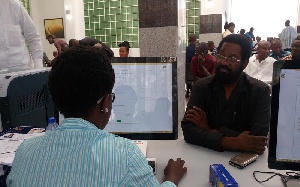 Even before the Seventh Parliament is ushered into office and constitute into Parliamentary Committees, MP-elect for Ablekuma South, Alfred Oko Vanderpuije, has given an indication where he can serve best.
The out-going Metropolitan Chief Executive of Accra says having been in public administration for some good number of years, the nation will benefit a lot from his experience if he is put on the Select Committee of Local Government and Rural Development of Parliament.

"As a Mayor, I have experience in public administration so I will bring to bear my local governance experience to help prosecute government's business. I can even serve on the Committee on Local Government," he noted.

Mr. Vanderpuije made this observation when he interacted with journalists on the sidelines of the ongoing registration of newly elected lawmakers for the Seventh Parliament of the Fourth Republic on Monday, December 19, 2016.

The exercise is to collate the data of all the MPs-elect for the Parliamentary register. Following the registration, the new MPs will be issued with Identification Cards that will enable them have access to the Chamber of the House and to attend the First Sitting of the Seventh Parliament.

Vanderpuije commenting further, said although the National Democratic Congress (NDC), will no more be managing the affairs of the country for the next four years beginning January 7, 2017, he is still committed to the pledge he made to people prior to winning their votes.
"I will deliver for my people to see that their vote for me did not go waste. They are looking forward to seeing what I will bring on board. So, I will make sure that the development that will come at the national level, Ablekuma South will not be left out," he said.

He further pledged to remain committed to his parliamentary responsibilities, noting that he will be present at all times to ensure that he makes input into all the Bills or laws that are passed by Parliament.

This, he believes, will go a long way to benefit the people of Ablekuma South.

Mr. Vanderpuije won the Ablekuma South seat on the ticket of the NDC.