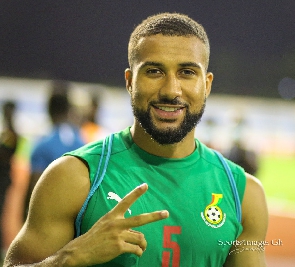 Ghanaian footballer, Daniel-Kofi Kyereh, has shared that as a child, he had to choose between football and athletics because of his mother's insistence.
The Freiburg midfielder reveals he wanted to combine both growing up but the stress of moving around forced him to pick football.

"It started when I was a little kid in Braunschweig (Germany), which is a small village. I started playing football and athletics," Kyereh told Pulse.com.gh.

"Those were my passion around that time and I just had fun playing football, it became over the years too much for my mum to bring me back and forth with both sports so she asked me to decide and I said I liked football more.

He continued, "I did everything that felt fun for me at that moment for example I was playing basketball with my friends like Dennis Schröder in Braunschweig when I was young.
"And even when we meet up for basketball after 10 minutes, I took the ball and tried to kick it with my feet into the rim.

"So everyone knew this is Kofi the footballer. No matter what I was doing I had football in my head, it was always all about football."

After representing Ghana at the 2022 World Cup and the 2021 Africa Cup of Nations, Kofi-Kyereh's career has been on the rise over the past year.

He secured a move from St. Pauli to Freiburg, where he has two goals this season in the Bundesliga.