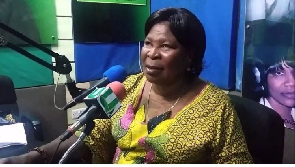 Former president John Dramani Mahama, has been named in Akua Donkor's fraud case.
The complainant, Ama Yeboah , has accused the former president of shielding Akua Donkor from the consequences of her actions.

She was therefore of the position that but for Mahama, Akua Donkor would have been arrested years ago. She claimed that Akua Donkor was a powerful political figure during the tenure of the ex-president, hence no one could touch her.

Ama Yeboah had earlier caused Akua Donkor's arrest for defrauding her to the tune of GH¢10,500 over a land she sold to her. "She walked freely for years; this is a woman, who constantly said that Mr. Mahama was her first son and indeed the then president displayed much love to her".
As a result, she had to wait for a change in government before reporting the matter to the appropriate authorities. Ama Yeboah added that she was constantly chased from the land in question.

She went on to say that she would do all in her power to ensure that her money was refunded. Akua Donkor was recently granted bail by the police, following her arrest on charges of fraud.

In her defense, she blamed the New Patriotic Party (NPP) administration for attempting to damage her reputation. She added that Ama Yeboah's accusations sprung up as soon as she (Akua Donkor) attacked the Daily Guide newspaper.