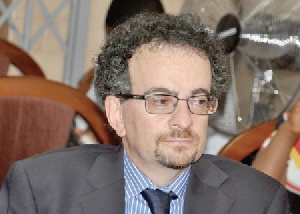 The outgoing British High Commissioner, Jon Benjamin has stated that he did not leak the letter banning some Ghanaian Members of Parliament who engaged in Visa fraud from re-entering the UK.
Richard Acheampong, NDC MP for Bia East in the Western region (NDC), Joseph Benhazin Dahah, NPP MP for Ntotroso in the Bono Ahafo region, Johnson Kwaku Adu, NPP MP for Ahafo Ano South West in the Ashanti region and George Boakye, former MP for Asunafo South in the Bono Ahafo region have been blacklisted by the British High Commission in Ghana for breaching immigration rules.

The four used their diplomatic passports to apply for visas for persons travelling to the UK and never returned.

The British High Commissioner in a letter dated January 20, 2017 to the speaker of parliament Mike Oquaye said: "The British High Commission considers the actions [of the MPs] completely unacceptable. In some cases these behaviours may arguably be criminal in nature."

Moments after the story broke Ghanaians hit out at the British High Commissioner for leaking a letter meant for the Speaker of Parliament to the media and a section of the public.
But commenting on the issue on Monday in an interview on Citi FM, Mr. Benjamin who will bring his service to an end in July this year, after serving three years in office stated that the letter was not leaked by him.

According to him, the letter was leaked by someone who had access to it but it was not leaked from his office.

Mr. Benjamin also stated that his biggest disappointment of his time in Ghana is the fact that Ghana-UK trade has slipped back during his tenure.

Mr. Benjamin, who is widely known by Ghanaians for his candidness, will be replaced by Iain Walker, who will assume office in August, this year.