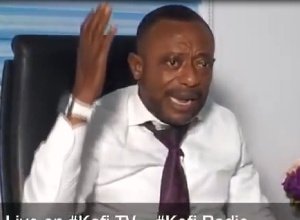 Founder of Glorious Word and Power Ministries International, Reverend Isaac Owusu Bempah has said he will neither apologize nor retract the death prophecies made against some prominent Ghanaians because it was a revelation from God, MyNewsGh.com has filed.
This is according to the official spokesperson for the church, Associate Pastor, Reverend Nana Mensa Ofori.

In an interview with Nhyira FM monitored by MyNewsGh.com, he stated that it would amount to making mockery of God if he decides to kowtow to the pressure from the youth who attacked the Odorkor branch of his church and demanded he publicly apologizes.

He argued that the Man of God was only used as a vessel to communicate what God wanted to tell his people insisting he could not have been the source of the information in the first place.

"Their request has no grounding. He was not the one who said it but God spoke through him. It is only God who can reverse the prophecies, not Papa Owusu Bempah. He is only a vessel that was used for that purpose of conveying the message. God cannot direct him to speak on a particular subject and will say a different thing", he revealed on the show.

Continuing his explanation he said, "the decision for Rev Owusu Bempah to apologize and retract will not hold. If God speaks through me that next year you will be rich and I convey that message to you and you examine yourself that it is not impossible and confront...asking me to stand before the public to announce a counter-prophecy...if I do that I really do not know the God I am working with... it means I said it at the first instance on my own volition"
Reverend Owusu Bempah in the last couple of days has come under attack over some frightening revelations about the fate of some African leaders, especially Ghana.

During his prophetic revelation on the 31st December 2018 watch night service, he made about eighteen revelations which according to him were divided into two the 5th realm and the 7th realm prophesies.

He preluded by emphatically stating that some prominent people, including an ex-president and a former First Lady would die in the course of the year adding that a National Islamic funeral beckons which would be the funeral of a Vice President of a sitting President and a Chief Imam, if nothing is done to avert the doom.

Owusu Bempah also said God has linked the longevity of Ghana's President Nana Addo Dankwa Akufo-Addo with the construction of the National Cathedral adding that successful completion of the cathedral would mean a long life for the president.