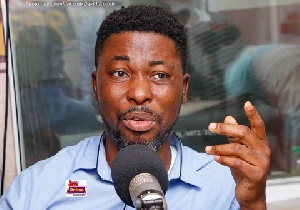 Kwame A Plus, musician and NPP member who has been 'talking' freely over NPP matters, most recently over GFA-Government controversy has issued a warning to ministers who call him when he speaks his mind; MyNewsGh.com observed him say.
According to A Plus, he only helped NPP win power and is not obliged to defend the party especially when they are wrong; asking party big men (ministers, deputy ministers etc) who call him to verify whether he actually said what the media has been attributing to him, to better get used to the idea that he will always talk freely and owes NPP no explanation.

According to Kwame A Plus, he only sees calls from Akufo-Addo's ministers only after he has spoken the truth, as they send him screenshots of websites with captions to ask if it is true he said it, and indeed he owns up to the words.

MyNewsGh.com has noted the existence of a parody account in the musician's name which has been a source of worry for Kwame A Plus who used to be President Akufo-Addo's darling boy.

A Plus has accused the Presidency of using the Kwesi Nyantakyi saga to cover up fraud and thievery being perpetrated at the Ministry of Communications under Mrs Ursula Owusu-Ekuful and George Andah.

He has also said the NPP government lacked common sense over a decision by the National Road Safety Commission to splash $1.5 million on road safety campaigns when our streets have no lights.
It is these, that have necessitated calls to him from NPP big men, which according to A Plus should stop as he owes no one any explanation.

A Plus wrote it on his official original facebook page:

"The only time NPP people remember I exist is when I write the truth they don't want to hear. Then all of a sudden they remember my number. Then you'll find all their ministers and their deputies and whoever calling and sending me message and screenshots from websites; Kwame did you say this? Kwame did you write that? You people behave as if I owe you something. I only supported you to win power. It ends there. You can not tell me how to live my life. You can not tell me what to say and what not. I'm not a member of your communication team. Enjoy your power and leave me to be a citizen and not a spectator ????????????.. Take a screenshot and share it in your WhatsApp groups" he ended.