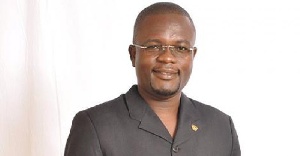 The National Democratic Congress (NDC) parliamentary candidate for the Ablekuma Central constituency, Alhaji Halidu Haruna, has said he does not regret his defence of the Montie FM trio jailed for scandalising the Supreme Court of Ghana.
His comment follows allegations that he supported the decision of the three to drag the image of the highest court of the land into disrepute, a situation his critics believe makes him unfit to be a member of the legislature in Ghana.

Speaking in an interview with Emefa Apawu on Class 91.3FM's 505 on Thursday November 10 as part of his campaign activities, Mr Haruna said: "We elected the president to defend our constitution… The president decided to grant them (the convicts) amnesty and so does that mean that the president supports wrong doing? No.

"The comments of the Montie Three were regrettable, but I think the punishment given to them far outweighed the offence they committed. I will defend anybody when it comes to matters of free speech. We should not criminalise free speech."

Making a point as to why he should be voted for, he said he had managed to provide permanent jobs for the people of his constituency, especially the youth.
According to him, although he was not the Member of Parliament for the area, he had been able to help provide street lights and asphalted roads within the constituency in addition to providing jobs for unemployed youth, hence should be voted for as MP of the area to continue with those projects.

"I have provided jobs for many young men – permanent jobs, not casual. I have also managed to provide them with streetlights and helped asphalt the roads."

"I am very principled, straightforward, focused, and want to do things right. I hate dishonesty and lies. If you want to lead the people, you must be as honest and as truthful as possible."