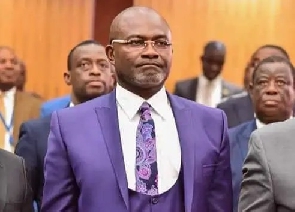 New Pariotic Party (NPP) presidential hopeful, Kennedy Agyapong, has serially spoken about financial contributions he has made to the party since its inception.
He has also provided funding for recent events including over 2.75 million Ghana cedis towards the April 2022 constituency elections (10,000 cedis to each constituency).

Later in December, he again donated 9,000 bags of rice and other items to the party as his widow's mite towards Christmas.

He has opened up on a logistical donation in 2016 when the party was gearing up for elections.

"Just this 2016, I bought 240 used pick-ups for NPP campaigns. Today, you are in power and you are telling Ghanaians not to buy used (cars)… what is the purchasing power of every Ghanaian in the country. How many people can afford new cars?" he asked during a public function.

The crux of his concern with used cars being the decision of government to ban the importation of such vehicles.

Ken Agyapong insists that the decision by the government is totally wrong and was not well thought off.
"You cannot bring a year to five-year-old cars because VW is going to produce brand new cars in Ghana, because Nissan is going to produce brand new cars in Ghana.

"The direct tax (we are losing) through customs is more than anything in the country. Look at the number of people who are going to lose their jobs. How many jobs are these companies going to create? We didn't sit down to analyse all these things, we just come out with policies, don't bring used cars," he said.

Agyapong is currently Member of Parliament for Assin Central, a seat he is set t relinquish at the expiration of his current term.

He is considered a frontrunner in the New Patriotic Party's presidential flagbearership race along with Vice President Mahamudu Bawumia and former Trade and Industry Minister, Alan Kyerematen.

Watch Ken Agyapong's remarks in the video below:


Ken Agyapong's views on the vehicle assembly policy in Ghana and the effects on importation of vehicles pic.twitter.com/B80VsbIK1J

— GraphicOnline (@Graphicgh) March 23, 2023
You can also watch this episode of People & Places here:
SARA