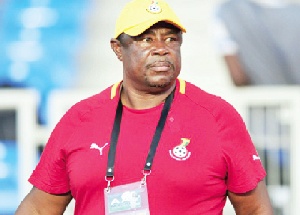 Aduana Stars Head Coach Paa Kwesi Fabin has revealed he has been living in fear during this Coronavirus period.
The Corona-Virus pandemic has really affected the sporting industry and with its alarming infection rate, people have been living in fear.

As a Coach who cares for the welfare of his players, Paa Kwesi Fabin has disclosed that he is worried his players might get infected.

He made the disclosure during an interview with Happy FM about the impact of COVID -19 on coaches.
"I fear not for the players alone," Paa Kwesi Fabin said.

"Everybody is at risk at any time because most people are asymptomatic. I have that genuine fear, that they can contract the virus.

"So it's very risky…I have this genuine fear that players may contract the virus," he concluded.