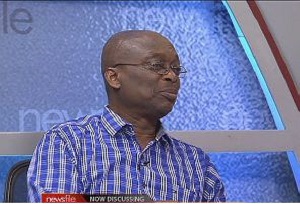 The Deputy CID Director who was allegedly caught on tape discussing investigations regarding the alleged corruption against two Deputy Chiefs of Staff claimed the audio had been doctored for some "mischievous and evil" purpose.
Maame Yaa Tiwaa Addo-Danquah, in a statement, insisted that a large portion of the contents of her conversation with A-plus was a "total fabrication and a figment of the author's imagination".

Controversial Musician, Kwame Asare Obeng popularly called A-plus recently accused Francis Asenso Boakye and Samuel Abu Jinapor, the two Deputy Chiefs of Staff, of being corrupt.

This prompted the President to call for thorough investigations into the issue in his resolve against corruption under his administration.

After probing the issue, the two Deputies were cleared of any acts of corruption because the musician failed to provide concrete evidence to his claims.

But barely two weeks after vindicating the two Deputy Chiefs of Staff, a leaked tape containing a dialogue between A-plus and the Deputy CID Boss contradicting the Police report emerged.
"As for the corruption aspect of it, from what you said and what we've gone to confirm, you wouldn't be too far from right to say that this is what happened but we need to manage...the people are your people. We need to find the best way to ensure that Korle Bu works the way we all want it . . . I feel sad for Nana, I think he has good intentions but he is not going to achieve them", she allegedly said on the tape.

Commenting on the issue on Joy FM's 'News file', seasoned journalist Abdul Malik Kweku Baako empathized with the female investigator saying her rank is indicative of her strength and character but the alleged audio recording has surfaced to plunge her career into a crisis situation.

Mr. Baako was grieved by the contents of the audio, stating emphatically that he feels "sorry for her. For a woman to rise to that level – Deputy CID Boss – is no joke if you know how our Police system had; it was formed. It's been grown. For a woman to get to that stage, that shows her character. That shows the strength. That shows her will power. I think her career is at the crossroads and it's so sad".

Kweku Baako also doubted the Deputy CID Boss' claim of the tape being doctored asking whether she spoke "Chinese" when she was conversing with A-plus.

He however called for fresh investigations by a neutral investigative body into the Police report to ascertain the truth in the corruption allegations against the two Deputy Chiefs of Staff.