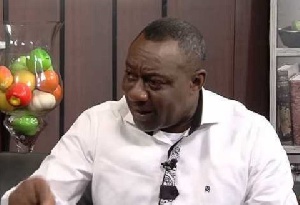 Former Member of Parliament [MP] for Bantama constituency, Henry Kwabena Kokofu has applauded President Nana Addo Dankwa Akufo-Addo for appointing Martin Alamisi Amidu as the country's first Special Prosecutor.
According to him he knows Martin Amidu to be a no-nonsense man and believes he will work tirelessly and flawlessly based on the mandate given to him without sparing anybody who falls victim to the law as well as not considering their political party colours.

"Martin Amidu is the type who voluntarily and always brings to the public domain any corrupt scandal he comes across especially persons of public institutions, therefore he is the right person to occupy such an office", he said.

Speaking on UTV's 'Adekye Nsroma' programme, Henry Kokofu said "I was pleased President Akufo-Addo made the right and perfect choice by nominating Martin Amidu as Special Prosecutor, frankly my heart was filled with joy and my headache at the time relieved as soon as the President mentioned the nominated Special Prosecutor".
"I just felt like a problem troubling me for years has been relieved of my head", he added.

Kwabena Kokofu urged members of the National Democratic Congress [NDC] to keep quiet as they watch the office of the Special Prosecutor do their work.