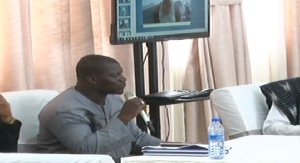 Seidu Hudu Zanzeh, a victim in the Ayawaso West Wuogon clashes has confessed to having been completely distorted and disorganised by events that occurred on the said day.
Having been asked by the Commission to narrate series of events as they happened on the day, he said he got surprised by the crowd he witnessed on arrival and that started his confusion.

Zanzeh who said he was there to contribute crates of minerals for distribution to polling agents said he lost his train of thoughts the moment he saw the uniformed men and the chaos happening in front of the NDC candidate's residence.

Asked to identify himself in a video which was played by the Commission, he said he couldn't recognise his own mother if she was presented to him.

Though he admitted to having heard gunshots and being beaten with a hammer-like object and the back of a gun on the park where the polls were held, he maintained that "I didn't recognise anybody. I got confused even before I got beaten".
He added that "Once I saw these people, my thoughts became distorted, I became confused".

Much to the surprise of the committee, he noted that his shock extends to today's sitting as has no idea why he was being asked to testify.

"I don't even know how I ended up here, I'm confused about the whole thing".