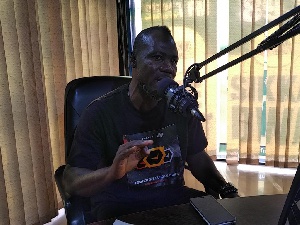 Former Kotoko skipper Joe Hendricks has for the first time opened up on the 2004 CAF Confederation Cup final defeat to Hearts of Oak.
At his peak, Hendrick was liked by fans of Kotoko for his ruggedness and no-nonsense defensive style.

In the golden era of Hearts versus Kotoko matches, the Sekondi-born centre back had his name on the lips of fans and pundits for his consistent performances. Every game he played was an audition for his credentials as one of the best centre backs at the time.

One of the games in which he starred was the 'virgin cup match' between the rivals.

In an interview with Television CK, the man popularly referred to as ")reba" opened up on the spiritual and mental issues that happened before the 2004 Confederation Cup match against Hearts of Oak.
The towering defender said he experienced nightmares before the match.

"Hearts Kotoko matches can make or unmake you as a player. The 2004 Confederation Cup final was not a normal game. It was heavy. Few days to the game the mood in the camp was someway. You could feel the pressure on players. It was never a normal game".

"We had dangerous dreams and nightmares. I had an experience where a red cloth was wrapped around my waist and a rounded material like football was lying there and I was going to pick it. Just when I was about taking it, someone stabbed me. You could see that a lot of things were going on behind the scenes. We had to pray at times because we had terrible dreams but we encouraged ourselves.

Hearts of Oak eventually beat Kotoko on penalties in Kumasi to win the maiden CAF Confederation Cup trophy.