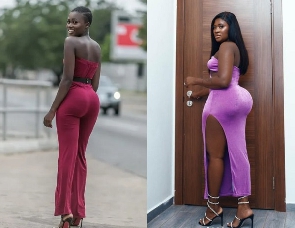 Body enhancement surgeries have become common among celebrities in the past years, however, actress Fella Makafui prides herself on maintaining a natural body.
Fella has disputed claims of going under the knife to enhance her body by adding volume to her butt amid rumours.

Citing her mother in a recent interview with blogger Zionfeix, the famous actress and wife of rapper Medikal claimed to have inherited her natural curves from her biological mother.

According to her, it only took time for the world to see what she possessed adding that she loves to flaunt her perfect body in clothes.

"I don't see anything wrong with what I wear. I have a nice body and am proud of that...No, I have not enhanced my body. Ever since you knew me, I have been in this industry since 2016, I have always been like this from YOLO.

"I have gained weight, I have lost weight. Have you seen my mum before? My mum is so endowed, come on," she said.
Meanwhile, Fella Makafui who described herself as one of Ghana's most trolled personalities added that she pays no heed to the fake news and backlash on social media.

"I don't read the comments. I just come, post and go. It is hard for me to read comments of what people post about me. They don't know you, it is just on social media...clearly what I do on social media is not me," she explained.





Watch the latest episode of Nkommo Wo Ho below:




OPD/BB