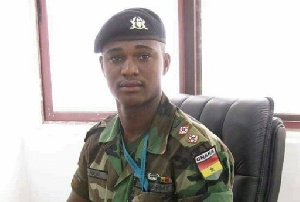 The legal representative of some of the persons suspected of lynching the late Major Maxwell Mahama has revealed that his life is in danger.
He claims that several death threats have been directed his way, simply because he decided to take up the case.

According to lawyer George Bernard Shaw, it started at the Cape Coast High Court, where he was verbally attacked for representing the suspects in court. It didn't end there; the windscreen of his vehicle was smashed by unknown persons as he was leaving the court.

He insists that he would continue to perform his role, as per the law, his clients are innocent till they are proven to be guilty by the court.

He noted that he has been cautioned by family and friends to discontinue his involvement in the case, but he decided to stand his grounds.
He again stated that he voluntarily took up the case, and as such his actions are not geared towards the expectation of a financial gain.

He concluded by stating that he is open to all possibilities of the outcome of the case, adding that he would be satisfied even if the courts determine the case and finds them guilty.