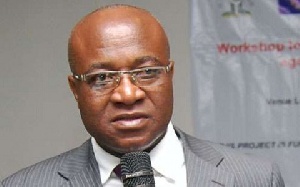 Kennedy Agyapong has been hauled before the privileges committee of parliament for insulting not just, Hon. Osei Kyei Mensah Bonsu, the majority leader of parliament but also the entire August house by referring to it as a foolish parliament.
At the peak of Kennedy Agyapong's threats to expose the identity of Anas and to also reveal how corrupt the ace investigative journalist is, the major leader passed a remark that if Ken has any evidence against Anas, he should bring it or shut up.

In a quick rebuttal, Kennedy Agyapong on Net2 TV, his station referred to Osei Kyei Mensah Bonsu as a foolish person who does not know what he is saying. He stated emphatically that he is a not afraid of the majority leader.

He also stated that if Parliament is not foolish and is a serious institution, it wouldn't have had someone as Osei Kyei Mensah Bonsu as it's leader. According to him, his salary as a member of parliament which is GHS11,000 is a peanut and that is not what feeds him and his family.

Speaking for the first time after Kennedy Agyapong was invited to come and meet with the privileges committee, Osei Kyei Mensah Obonsu has revealed that a day after Ken's utterances, he met him in parliament and showed him the evidence he has against Anas.


He explained that the evidence is not damning as he wants the nation to believe and he told him that.

He, however, stated that during all that time he had not heard the insults rained on him by Kennedy Agyapong.