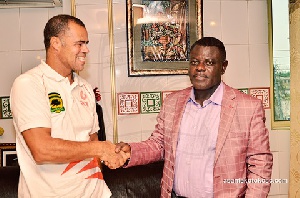 Coach Steven Pollack has signed a contract extension at Asante Kotoko and cites his desire to complete an 'unfinished business' at the club as a major factor in his decision.
The British trainer, who joined Kotoko halfway through last season on a contract that ran till the end of the campaign, led the team to the FA Cup and the Presidents Cup titles.

Speaking moments after penning his signature, he revealed his target of improving on the club's trophy haul as his motivation for staying.

"We won the FA and the Presidents Cup titles and ahead of us lies the CAF Confederations Cup, another League and FA Cup challenge and that for me is a major attraction," he said.

"I think I have started something here and I want to finish it so someday when I do leave, I get to be remembered with the good things I did".

Disclosing his personal targets, the cheerful looking coach said "the Premier league remains a big one; not only for me but also for the supporters and the club as a whole."
Though confident in his course, Polack calls on the club's supporters to keep their patience and continue to offer their support even in challenges times.

"The fans must understand the need to keep their expectations measured while we work hard with every training and with every game to give 100 percent on all front to win trophies."

Explaining further, he stated that "I want to win every competition as a coach and the players need to think positive with a desire to win every game as well. That's how you hand yourself the opportunity to win titles and that's the kind of culture we want to create at Kotoko."

Stressing about what it'd take to take flight in coming season; he said "Rome will always take time to be built. You have seen me and seen what I can do. Keep supporting me, my backroom staff and the players."

"With patience, we will get there. I now have the opportunity to undergo a good preseason with the team. That will make things a lot easier," he added.