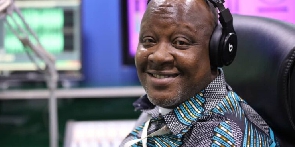 Broadcaster and host of Peace FM's 'Kokrokoo' morning show, Kwami Sefa Kayi has set the record straight on his crusade for Ghana to legalize marijuana.
Kwami Sefa Kayi has been advocating that the Government of Ghana should reconsider criminalizing the growing of marijuana in the country but his assertions have been misconstrued by some section of the public.

His critics have lashed out at him stating his call is aimed to stimulate people to smoke marijuana (wee).

Today, May 25, marks the 60th anniversary of Africa Union (AU) and with the Kokrokoo panel discussing the significance of the day, a texter took a jab at Kwami Sefa Kayi for not condemning the use of marijuana but rather hoping for it to be legitimized.

"Kwami, this assertion of yours about wee is so nauseating. Our political and cultural system is not yet matured to handle such a situation. Let's take our time," the texter said.

In reply, Mr. Sefa Kayi clarified his position stating, "I haven't said we should go and smoke wee. So, with the greatest respect, this your misrepresentation and misunderstanding of what my position is is extremely nauseating. I haven't said anybody should smoke wee".
He noted that his position is that marijuana should be legalized for industrial, medicinal and development purposes.

Marijuana is "used to make medicines. It is used to create industries in some places. The wee is grouped into two; we have industrial hemp or industrial marijuana and recreational marijuana...Do a little research. There's something called the THC levels. The THC levels in industrial marijuana are about 0.3; that is what is used to do things. The one that is above the 0.3 is what make people high. We cannot even come together as a country to think that we can use the 0.3 to manufacture things," he explained.

He added, "We will be sitting here and the Whites will use wee [0.3] to manufacture an aeroplane and that we should come and buy, and of course we will buy it. That is where my fear is and my problem is...We will be here one day and they will tell us that they have used a certain part of the wee to make baby food...So, please, I haven't said any person should go and smoke wee. That's not what I'm saying or advocating."

Borrowing a phrase from the legendary Bob Marley, Kwami Sefa Kayi called on the nation to "emancipate yourself from mental slavery", if not, he stressed, "one day, we will regret it".