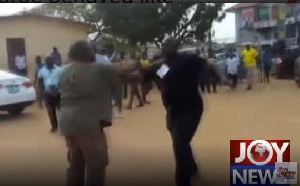 A member of the National Security SWAT team, Mr Mohammed Sulemana has said he assaulted Ningo-Prampram MP, Sam Nartey George, on the day of the Ayawaso West Wuogon by-election because the lawmaker insulted him.
He told the Commission of Inquiry probing the violence that occurred at La-Bawaleshie on 31 January 2019 that Mr Sam George hurled unprintable ethnocentric invectives at him, thus, his violent reaction against Mr George.

Mr Sulemana, however, said he did not know Mr George was a Member of Parliament at the time of the incident, adding that he would never have assaulted him if he knew.

Meanwhile, Mr Sam George during his testimony before the commission rejected claims that he provoked the security officials.

Mr George told the Commission that he was assaulted by two separate operatives without provocation.
Mr George said on Monday, 25 February 2019 that he only queried an individual involved in the matter about whether he was "a police officer or a party officer?"

He said he did not know why that simple question got him assaulted.