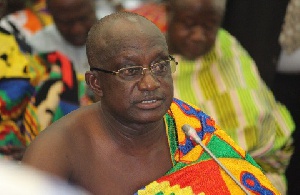 The Ashanti regional Minister Simon Osei Mensah has commiserated with the family of the late Major Maxwell Adam Mahama.
The young Soldier who was honoured with a state burial was interred on Friday at the military cemetery at Osu in the capital Accra.

Sharing his condolences, the regional minister expressed sadness especially at the plight of the children of the fallen Major, Jerry and Jaden Mahama.

Speaking to Ultimate News' Ivan Heathcote – Fumador, he recounted how a similar plight he experienced as a child landed him in a precarious situation while growing up.

"People like me have seen such things before. It was not that my father was lynched but he died when I was at a very tender age. If I tell you the difficulties I have gone through in life before getting to where I am, I don't want to witness anybody going through that process. It's a very difficult process and if you don't take care, you can even breakdown on the way, just get disappointed and give up," he recounted with grief.

He added "I pray that the woman will be able to withstand what has happened and then take good care of the children'.

Empathising with the military, Mr Osei Mensah asked that the soldiers "exercise restraint, have some patience and let the law deal with the perpetrators of this heinous act."
He further condemned mob instant justice describing the development that led to the death of the then Captain Maxwell Mahama as an unfortunate incident which shouldn't have happened.