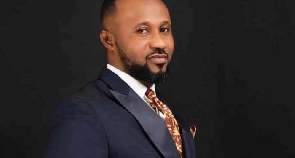 The Founder and leader of Springs of Grace and Power Embassy International, Prophet Osei Kofi Elijah says he impregnated his wife before he got married to her despite being a man of God.
Answering questions if it was right for a man to have sexual intercourse before marriage, he said he personally could not do that even as a pastor, questioning how people will know their partners if they do not have sexual intercourse with them before marriage.

Although he said it was right to wait while dating and start sex after marriage, he does not judge people who are unable to do that because it is not easy to abstain from sex.

"I want to ask you, if you do not test it, how will you know whether it is good or not," he questioned?

In an interview on Onua FM, Prophet Elijah said while they were courting, he could not resist sex because his wife was very attractive and he could not control himself.
"If I lie about this, everyone who attends my church will have a problem with me if they hear it because at the time I married my wife some 14 years ago, they watched and noticed she delivered not long after she delivered our first born, oh that is the truth," he said.

The Project made it known his admiration for women with "big behind", saying it was really difficult for him to resist his wife because of her "back".

Meanwhile, he also shared a story of how a pastor he invited to preach at his church fell down while admiring the beauty of a lady who went to donate offertory at his church, questioning what was so special about the back of women.