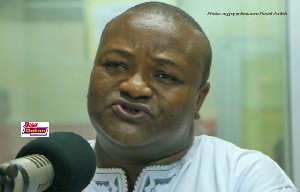 Failed presidential aspirant, Hassan Ayariga has claimed he was certain former president John Mahama was going to lose in the 2016 general elections even before he publicly endorsed him.
Speaking on Joy FM's Super Morning Show on Friday, April 21, the founder of the All People Congress (APC) backed his claim with the explanation that it was very obvious the National Democratic Congress (NDC) had lost touch with the grassroots as at the time of the elections.

According to him 90% of the 200 people who registered to join his then newly formed APC Party were all defectors from the NDC and there couldn't be any clearer indication that the party was headed for doom.
He also revealed that one major factor that led him to endorse John Mahama over Nana Akufo-Addo was that the then NDC presidential candidate called to sympathize with him during the hard time when he was infamously disqualified by the Electoral Commission.

He added that the CPP Presidential candidate, Ivor Greenstreet and Jacob Osei Yeboah the independent candidate both called to console him but the NPP never did.