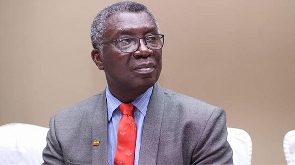 Former Minister of Science and Technology, Prof Kwabena Frimpong-Boateng, has refused to state whether he would be voting for this party, the New Patriotic Party (NPP) in the next general election.
Speaking in an interview on Metro TV, on Thursday, June 8, 2023, the former minister said that he will vote for a party that has the interest of Ghana at heart.

He added that his party the NPP, in its current state, does not fit into the category of parties he will consider voting for.

"I know who I would not vote… I want a government that will serve this nation, and unite this nation.

"Whether they will break the eight or they can't break it that is not important to the nation. We want a nation that is on the path of true righteousness and a nation that is on the path to true sustainable development," he said when asked whether Ghanaians should help the NPP win power for a 3rd successive term – break the eight.

Prof. Frimpong-Boateng has made news headlines since Wednesday (May 7, 2023) after news broke of his arrest on May 16, 2023, by the Office of the Special Prosecutor (OSP).
His arrest was in relation to some corruption allegations in the work of the Inter-Ministerial Committee on Illegal Mining (IMCIM), which he chaired.

The former minister was granted a GH¢2 million bail.

His arrest was after an invitation from the OSP to the former minister to appear before it in an ongoing investigation into some corruption-related matters relating to a report he spearheaded on activities of small-scale mining in the country.

According to a report by 3news.com, the renowned heart surgeon has since been granted bail.

On May 4, 2023, GhanaWeb reported that the former Minister for Environment, Science and Technology, Prof. Kwabena Frimpong-Boateng, had been invited by the Office of the Special Prosecutor, Kissi Agyebeng, to assist with investigations following allegations raised in a report submitted to the presidency.
Prof. Frimpong had made suggestions that some elements in the New Patriotic Party and the government had made attempts to frustrate his work and sabotage him during his work as chair of the Inter-Ministerial Committee on Illegal Mining (IMCIM).

In the statement dated, May 4, 2023, Prof. Frimpong-Boateng noted that he had duly received the invitation and had indicated his willingness to cooperate.

He noted that he was described as 'a person necessary for the investigation'.

Watch the interview below:


I know who I'll not vote for - Prof. Frimpong Boateng#GoodMorningGhana #MetroTV pic.twitter.com/g9rNXIo6U8

— Metro TV Ghana (@metrotvgh) June 8, 2023
Also, watch the latest episode of GhanaWeb Election Desk on GhanaWeb TV below:








Meanwhile, watch the first episode of Everyday People on GhanaWeb TV below:


IB/