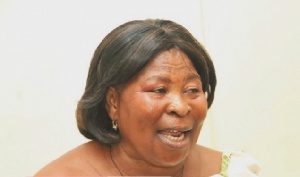 Flagbearer of the Ghana Freedom Party(GFP), Madam Akua Donkor says she will stop women from attending all-night service in their churches when she is elected into office as the President of Ghana.
According to her, women are supposed to stay home and attend to the needs of their husbands; hence it is wrong for them to neglect those duties and spend the whole night in church.

"As a woman, you are supposed to take care of the home and your husband. Women are supposed to be submissive; the man is the head of the family and that is what the Bible says. You cannot leave your duties at home and spend the whole day in church; going to all-night and so on. If you are going with your husband, that is ok but you cannot leave your husband alone…women will stop attending all-night when I come into office. Why should you spend the whole night in church when your husband is alone in the house…?" she queried.
Akua Donkor made these remarks when she appeared on UTV's Adekye Nsroma with her running mate Patricia Yaa Asante, Friday.