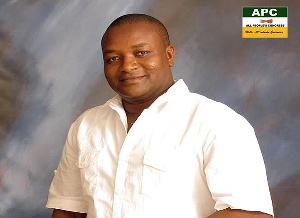 Founder of the All People's Congress (APC), Mr Hassan Ayariga as part of his own measures in fighting corruption should he become president of Ghana, will be to expand the country's prison facilities.
He has made a shocking disclosure that he will also be the first sitting president to sleep in jail just to signal to his appointees that anyone who misconducts himself or herself will be thrown into jail to serve as a deterrent to others.

"When I become President, the first thing I will do is build prisons and will be the first person to go sleep in a prison cell. I want Ghanaians to know that if the President goes to sleep in prison for not committing any crime, if anybody or any of appointees commits crime he/she will be jailed without fear or favour. Anybody working under me will know that the prison was built for anybody", he disclosed in an exclusive interview with mynewsgh.com

Mr Ayariga observed that the failure by successive governments to enforce prescribed sanctions against persons found to be corrupt is one of the reasons why the practice is assuming an alarming proportion in the country in recent times.

He disagreed with the system where appointees who are found to be corrupt are only made to resign from their positions without facing full rigors of the law warning that any attempt to allow this status quo persist will only draw the development fortunes of the country backwards.
Even though he admits corruption is an age old practice, he insisted that a rigorous leader who has the country at heart can fight the canker by dealing with persons within his own party in the supreme interest of the country.

To this end, he appealed to the current administration to arrest and jail past appointees if it is established they committed acts that have caused financial loss to the state.

"Let us stop being political paddies. If you have evidence they were corrupt, arrest and throw them in jail so that when their government also comes back into power and have evidence of corruption against you they will do same. When we begin to punish people without fear or favor all these corruption will stop. We are not enforcing sanctions because we favour each other", he added.