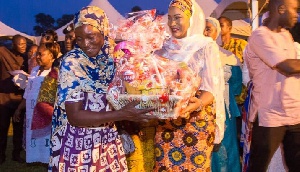 The Second Lady of Ghana, Hajia Samira Bawumia has called on widows to adopt her as their daughter who will continually fight for their welfare and will contribute to help them no matter how small it is.
According to her, she is committed to this course and will prosecute it to the latter indicating that she feels their pain and will not abandon them at their point of need.

Putting smiles on the faces of over 350 with widows with hampers in the Ashanti Region in order to enable them enjoy the Christmas festivities, she stated that all of the policies rolled out by the Akufo-Addo led government were meant to relieve women, particularly and encouraged them to make the most out of these policies.

Each received a hamper comprising pieces of GTP cloth, scarfs, bags of rice, bottles of oil, chocolate beverages, milk, biscuits, drinks and bars of chocolate, among others.
According to Samira Bawumia, the gifts were to support the widows and their families in marking the festivities.

"I owe it a duty to God and our country, to share with our mothers all the blessings God has bestowed on me. It is not a pleasant situation to find yourself in, as a widow, and becoming the breadwinner of the home. That is why, as your daughter, I have come to give to you, the little I have, so we can all smile during the season", she indicated.