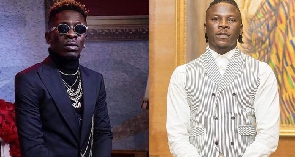 It appears Shatta Wale has revived his rift with Stonebwoy, and this time around, it stemmed from the clash of their forthcoming events at the Accra Sports Stadium.
Shatta, who was the first to announce and share flyers of his event said he has been asked to give up the venue for Stonebwoy due to an instruction from higher authorities, a situation he deems unfair.

Shatta Wale earlier announced that his Freedom Wave concert is slated for 20-25th December and Stonebwoy also scheduled 22nd December for his BHIM Concert.

This development has stirred confusion as according to Shatta, although he was the first to announce and book the stadium for his five-day-long event, he has been asked to re-schedule for next year.

In a Facebook live expressing range and fury, Shatta accused Stonebwoy of sabotage, and the deliberate scheduling of his annual BHIM Concert at the same venue and around the same time as his Freedom Wave Festival.

His anger also stems from the fact that the Accra Sports Stadium has always been the ideal location for his December concert ever since it was launched, but this time around, it has been allocated to his nemesis (Stonebwoy).

Narrating what led to the cancellation of his show and how events unfolded, Shatta said in Pidgin English:
"I sat down with my team and I was like, let's start doing promos because I got calls from outside Ghana and everyone wants to come and enjoy the 360 events. I've got fans from Germany, London, Qatar, Dubai and America, shout out to them. They are all sending me messages that this year, they want to come and support for it to look good. As we just put out flyer, Stonebwoy dems go put out flyer that they are also doing their show on the 22nd. No problem, the stadium, eno be my father ein own, eno be ein father ein own. I gave Sammy money to book the venue and all of that. As we come announce that we get festival and the lineup of things we dey come do, that be when Stonebwoy too wan do show 22nd.

"It is something we do every year, and as we're preparing to do it this year, we need days to set up. That is why I am making Afronation as an example. Afronation need weeks to set up anytime they have a concert. We dey Ghana, we dey see demma preparations towards the Afronation festival. Then someone came to pick a date within our set up. Ask yourself, are you thinking? Then they'll come and tell us that the President's daughter gave the orders. How did they call the president's daughter and how did they get her to make such a decision. Very stupid!' he angrily expressed in pijin and English.

In a bid to address the situation, his outbursts were saddled with threats and cusses that caught the attention of netizens.

"Stonebwoy I am telling you, don't let us see eye to eye. Don't make we meet like that, in your life when we meet, let's pass by each other! Do you understand me? Because when you see me and you act like you want to smile, I go slap you erh! I go break your leg erh! Adey tell you something because as you commot gun, they no warn you. They no talk sense into your head. Kwasia! So, you dey there wey you take your apakye to do cripple. You hide under the guise of your condition to seek for mercy. From now on, I won't pity your condition. You think you are a hard guy, when I go somewhere don't come there. The show, you people go take and chew am," he fumed.

Watch the posts below:


Shatta Wale says he will slap Stonebwoy pic.twitter.com/91q3EGWpf7

— ANGEL TOPEDO (@ThoughtPillow) September 19, 2023
Shatta Wale is mad at Stonebwoy for choosing the Accra Sports Stadium for his December concert.

And it appears Shatta has been asked to postpone his show cos of Stonebwoy's show.

No be small mafia oo pic.twitter.com/9q6nu7fwLk

— Ayawaso West Sarkodie (@kwame_sarkcess) September 19, 2023
Click here to start the nomination process for the 2023 GhanaWeb Excellence Awards
Ghana's leading digital news platform, GhanaWeb, in conjunction with the Korle-Bu Teaching Hospital, is embarking on an aggressive campaign which is geared towards ensuring that parliament passes comprehensive legislation to guide organ harvesting, organ donation, and organ transplantation in the country.
EB/BB