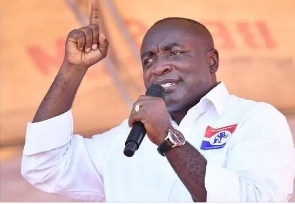 One of the New Patriotic Party's (NPP) aspiring presidential candidates, Kwabena Agyei Agyepong, has promised to work with a ministerial team of 54 people if elected president.
According to the aspiring presidential candidate, his administration will demonstrate "exemplary leadership" in enacting austerity measures.

On Tuesday, July 11, 2023, he made the statements at the formal kickoff of the hid campaign.

"Our governments have been too large, so that's the first thing to send a strong signal. It's not about the quantum of money you save by downsizing the government, but the moral message you send to the Ghanaian people that you are serious about what you are doing.

"Cut down the government perks in Ghana right now, it appears people enjoy government perks more than the work that they are supposed to do. It's important as leaders to lead by example, and that's what I've said.
"We'll cut down the government. I'll work with a 54 ministerial team and that's a stark departure from what we've used in the 4th Republic. That's a major departure from what you are seeing, so it's a policy plan".

According to him, Ghana must work towards balancing its budgets, explaining that operating on deficit financing was not a sustainable way to run a government.

"It's not about rhetoric or sloganeering. It's about real cuts that would ensure that you can free the resources that we require to support youth regeneration, to support entrepreneurship, and the things that we need to rebuild our economy."