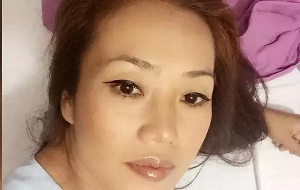 Kumasi-based Radio Presenter, Oheneba Nana Asiedu has alleged the infamous case of Asia Huang resulted in a hostile collision between him and top Police officer [name withheld] who forced his employers to get him sacked.
According to him, the embattled Chinese migrant involved in illegal mining was for a long while never caught in her illegal dealings until now because she had a tacit protection from high ranking officials in the Ghana Police Service.

A criminal High Court in Accra Tuesday remanded into Prison custody the 31-year-old Chinese woman suspected to be one of Ghana's most notorious illegal miners and her three other Chinese colleagues.

She was nabbed by the Ghana Immigration Service this week after she made the headlines for allegedly escaping several arrests in her illegal operations in mining.

Speaking on Anopa Kasapa on Kasapa 102.5 FM, Oheneba said he has no regret over the sacrifices he'd made in his resolve to follow up the case of the untouchable galamsey queen.

According him, the arrest of the Chinese illegal miner yesterday, gives him a sigh of relief .
"I was contacted by some helpless locals in the area-Bepotenten, a suburb of Jacobu in the Amansie Central district to help them because there were some galamseyers taking over most of their lands."

"I have in my possession a court writ, which the lady in question (Aisha Huang) was cited for contempt over some controversial piece of land, which she forcefully acquired for galamsey activities, yet she defied the court orders and was still working on it. I became curious and started my personal investigations into the story. However, I was shocked to hear that several Police officers in Jacobu that attempted pursuing the matter have had to be transferred.

"So 7th September, 2015, I traveled to Jacobu to follow up on the mysterious Chinese migrant and her dealings in that area. I went for a short stay in the area so I could get better insight into the matter about Aisha.

"I did my own investigations, so the first day I published a story about Aisha was 13th September 2015. Incidentally when I started the crusade about the lady, the Police jumped to her defence and said there is no truth in the matter because Aisha had legal permits in her operations.

"Two months later I was instructed by my former Boss at Boss fm not to talk about Aisha because ( a top Police Officer) complained he was not happy with me pursuing her. I decided to go on with the stories I was running about her (Aisha ) and eventually I was suspended indefinitely."