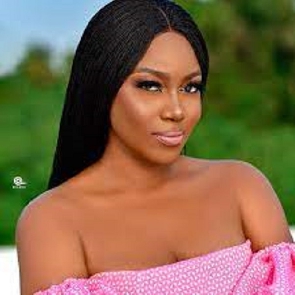 Ghanaian actress and movie producer, Yvonne Nelson has disclosed that she loves working with the veteran actors than the up-and-coming ones.
Yvonne Nelson, who has been producing movies for a while and also working with several actors has come to the realization that, working with the likes of John Dumelo, James Gardener, Majid Michel and Prince David Osei is better as compared to the future actors.

In an interview with Aba Guy Guy on the e-chart show, she explained that the veteran actors have more experience in the movie industry and also have a deep understanding on how everything works hence, they make working or production easier.

"She said, "The old gees already have an understanding of how the job is done. They know the job so its easier working with them. It's easier working my colleagues Majid, John it's easier".

She added that, the up-and-coming actors do have the talent but the tardiness the lack of seriousness they exhibit on set is unacceptable. This, she said, includes punctuality.

"Ghanaians were complaining they were tired of seeing the old faces in movies thus we should explore the talents of the upcoming actors but these new actors lack discipline and seriousness. Funny enough, they haven't gain popularity but their behavior on set is very bad", she stressed.
"We go on set and at the location, we have been granted 5 hours to use the place. You give them a specific time to report and you see them reporting at a different time. For example, you tell them to be at set at 8am and they end up reporting at 2pm", she added.

The actress concluded that as a result of such behaviors, she has learnt her lessons and has decided to reconsider certain things in her next project.

Watch the video below:


ED/BB