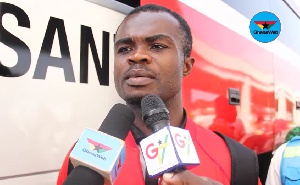 Former Asante Kotoko captain, Amos Frimpong has given reasons why he deserves to be the club's best player in the last decade.
On a radio interview with Kumasi FM, the FC Kaloum defender outlined his achievements for the club as well as his match winner in important games.

"There are many instances I can cite in justifying why I deserve to be Kotoko's best player of the decade," said the 28-year old.

"There are a lot of games I won for Asante Kotoko; in the semi finals game in the NC special competition, I scored the winning penalty against Hearts of Oak.
"In the MTN FA cup finals in Tamale in 2017,as captain,together with my teammates I won that cup for Asante Kotoko. In the president cup in 2016 and 17,my last penalty goal won it for us.

"I feel elated in my closet for helping Asante Kotoko win all these trophies."

Frimpong spent seven successful season with the club after moving to Asante Kotoko from B.A United.