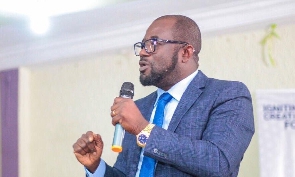 Veteran Ghanaian football administrator, Lawyer Ntow Fianko, has spoken against the proposal that has been tabled to extend the tenure of Ghana Football Association presidents.
The current statutes of the GFA only permit the presidents to go for two terms of four years each but according to Accra Great Olympics' General Manager Oluboi Commodore, a new proposal has been tabled and if approved by Congress will mean that Kurt Okraku can be in power for 12 years.

The reported proposal has been met with stiff opposition and Lawyer Ntow Fianko has joined the train thus urging clubs not to accept the review committee's latest amendment.

"I don't agree with them today or tomorrow the reason why I don't agree with them is that after Normalisation we accepted the new GFA statutes on 19th December 2019. After that, the clubs said we have to make an amendment to some provisions."

"They told the GFA executive council and secretary to call an emergency congress or an extraordinary congress they have a proposed amendment which should be taken to the congress so that they amend some of the provisions, but the FA ignored them.
After that, the clubs invoked powers on them under article 33 clause 3 of the GFA new statutes that if they ignore them the law says the members will call an extraordinary congress. So if they get a quorum not less than 50 percent of members they too can go to congress to do all the amendments. They went to meet in Kumasi and got the quorum and did a lot of amendments some concerning RFAs, Palmer and George Afriyie played a key role in that.

They met at a proper called congress to do the amendments when the finished the amendments last year before we qualified for World Cup when they brought it to the FA ask that because the FA doesn't respect them the amendments done were all thrown into the dustbin or waste basket. Did they use them they did a lot of amendments to clubs they don't respect the clubs so they didn't use them and the clubs are somewhere silent. And you have created a five-member committee that should do amendments to statutes the clubs that have the power to do amendments did amendments and because you don't respect them you ignored them.

Now the new amendment you want them to amend article 32 clause 4 in our time it was a total limit and some said Kwesi Nyantakyi is Kwesi Mugabe, Kwesi pilot, Kwesi the tyrant, all unnecessary and useless accolades were given to him," he said on Accra-based Peace FM.