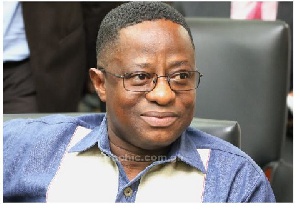 The Minister of Lands and Natural Resources, Mr. John Peter Amewu has assured that he will support the media campaign against the menace.
Speaking at the launch of the media coalition against illegal mining popularly called galamsey, the Minister asserted that, the media has the power to end the menace.

"I assure you that the President, Nana Akufo Addo, is so passionate about the environment, the pollution of water bodies, degradation of our forest and is strongly behind you. We in politics and in government are solidly behind you."

"The people who are currently going around and destroying the environment are total killers. It is not different from armed robbery.
Metal content in our water bodies have increased, the mercury content has risen, the cyanide content has increased," he added. According to him, there is no one better or bigger than the media to help in fighting galamsey.

"We have no better time than today and now to go after those guys… Yes I agree with you perfectly that there are some people, so called big shots behind them, but who can be bigger than the media, if there are politicians behind them, can they be bigger than the media? If there are chiefs behind them, can they be bigger than the media? My simple answer to that question is no."