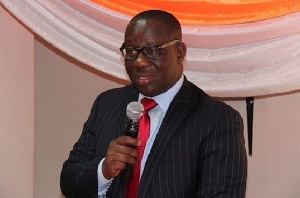 The embattled former Director General of the Social Security and National Insurance Trust (SSNIT) Ernest Thompson has denied knowledge of any audit into his tenure by PriceWaterHouse.
"Our client is unaware of any audit or investigations by PriceWaterHouse. We say this on authority because it would seem strange that an audit could be conducted over a period of several months and report released without any hearing given to our client by PWC to state his side of the case. PWC never met our client before finalizing its report," a statement from Mr. Thompson's lawyers sighted by Starrfmonline.com said.

The statement also accused the management of SSNIT of using the media to prosecute the former MD.

"It is to be noted that the management of SSNIT which claims to be the complainant continues to persecute our client in the print and electronic media with press conferences and releases with the least opportunity without any regard to the evidence and facts adduced before the investigators at EOCO".

Some four officials of the Social Security and National Insurance Trust (SSNIT) including the former Director General have been charged with wilfully causing financial loss to the state.

Their indictment is as a result of an investigation by EOCO on the procurement of an ICT Software costing $72 million.
The Company Secretary of SSNIT speaking during a press conference Wednesday revealed that Juliet Hasana Korama who sold the software to SSNIT is also part of the indicted persons.

EOCO started investigating SSNIT in August 2017 after it emerged that the Trust had injected $72 million on the procurement and installation of a software and other hardware systems known as the Operational Business Suite (OBS) to digitize SSNIT's operations.

SSNIT further assured that it will publish findings from the audit by PricewaterhouoesCoopers into the matter.