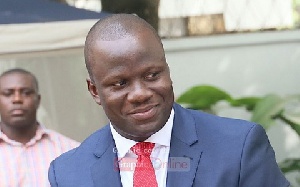 Deputy Chief of Staff, Samuel Abu Jinapor has denied claims images of a purported mansion under construction circulating on social media is his.
The pictures of the magnificent structure have been circulating on social media pages of National Democratic Congress (NDC) supporters with various captions.

But Mr Jinapor disclosed that the structure is not his and those trying to associate it to him are peddling falsehood calling on the public to disregard it.
He wrote: "My attention has been drawn to a deliberate and vile propaganda circulating on social media to the effect that, I am building a "magnificent villa" in Damongo, in the Northern Region, as part of an alleged ambition "to annex" a Parliamentary seat.

For the records, I do not own any landed property in Damongo. Again, I am not building a "mansion" there either. These widely circulating claims , yet again, fit into the grand scheme by full-time detractors to soil my reputation. I, therefore, entreat all and sundry to completely disregard this wicked propaganda.