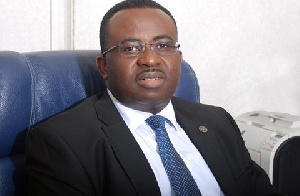 A former deputy governor of the Bank of Ghana, Dr Johnson Asiama says he is prepared to meet the police to assist in investigations into the collapse of some banks in the country.
This comes after reports that the former deputy governor had gone into hiding after being invited by the police.

According to the reports, the police had said that Dr. Asiama, together with the Founder of the now-defunct UniBank, Dr. Kwabena Duffuor Snr and his son, Dr. Kwabena Duffuor Jnr were invited to help with investigations but only Dr Duffuor Jnr was cooperating with the Special Investigations Team (SIT).

But reacting to this in a message to host of JoyNews' 'Newsfile', Samson Lardy, lawyers of Dr Asiama noted that their client was not on the run.

They further noted that Dr Asiama only wanted the date given him to meet the police, January 13, 2020, to be rescheduled because he was out of town at the time.

"Dr Johnson Asiama on Friday 10th January 2020 received a text message from one DSP Appeatu of the Special Investigation Team (SIT) to report on 13th January 2020. Dr Asiama instructed his lawyers to write to SIT to reschedule the invitation to the week commencing 20th January 2020 as he was not immediately available! SIT received and acknowledged the said letter," the text message from Rockson Nelson Dafeamekpor read.
"All attempts by the lawyers for Dr Asiama to reschedule the said invitation proved futile. Dr Asiama is ready and willing to avail himself whenever SIT reschedules the said appointment," he added.

Samson Lardy also received a text message from lawyers of Dr Kwabena Duffuor Jnr, who reiterated that their client has been cooperating with the police.

"Dr Kwabena Duffour Jnr has always cooperated with the Special Investigation Team led by COP Edward Tabiri. From 2018 till date. It is on this basis that we had his instructions to file the human rights application which has been served on the Attorney General, IGP and COP Edward Tabiri. It is therefore misleading the media report that Dr Duffour Jnr is on the run."

Dr Kwabena Duffour Snr. has, however, asked the court for an interlocutory injunction to prevent the police from what he describes as "unlawful threats and harassment," it read.

According to him, he ceased being the director of UniBank in 2009 when he became Finance Minister.