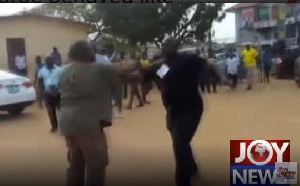 The National Security SWAT operative who slapped Ningo-Prampram, Sam George, during the Ayawaso West Wuogon by-election, has apologised for the assault.
Mr Mohammed Sulemana, who appeared before the Justice Emile Short Commission of Inquiry tasked to probe the by-election violence, told the Commission on Friday, 8 March 2019 that he hit Mr George because the legislator hurled tribalistic invectives at him.

Mr Sulemana told the Commission that he did not know that Mr George was an MP at the time of the incident.

After he was made aware by the Commission that Mr George is an MP, Mr Sulemana said Mr George's behaviour during the by-election did not portray him as a legislator.

However, Mr Sulemana said he regretted assaulting the MP.

"My Lord, I was guilty. I regret what I did. Whenever you err, what you need to say is 'I'm sorry and I will not do that again'", he said.

He continued: "When you offend somebody and ask for forgiveness and it comes from your heart then that person will forgive you".
He further asked the "people of Ghana to forgive me and I ask the Almighty Allah to also forgive me".

Professor Henrietta Mensah-Bonsu, a member of the Commission, advised Mr Sulemana to be wary of his conduct as a national security operative as he represents the authority of the state during operations.

"When the state puts a uniform on you, you carry the power of the state so you should not fly into a temper because somebody has said something nasty to you. The law does not permit that you beat people when they say something you don't like", Professor Mensah-Bonsu said.

She further asked Mr Sulemana to apologise to his unit and Ghanaians because it is the taxpayers' money that is used to pay him.

"You must treat all Ghanaians with respect, they don't have to be members of parliament", Professor Mensah-Bonsu added.