I'm still a Christian; National Cathedral 'fight' part of my parliamentary duty – Ablakwa reiterates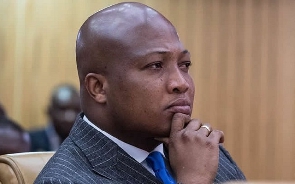 Member of Parliament (MP) for North Tongu, Samuel Okudzeto Ablakwa, replied those questioning his Christianity over his fight against the building of the National Cathedral has already cost the country some Four Hundred Million Dollars.
According to him, his war against the building is not borne out of the fact that he is not a Christian, but doing his work as a Parliamentarian, which requires him to keep the other arms of government including the Executive in check.

"I am still a Christian. We are all Christians and when you take a look at the population census, we profess that we are Christians because 70% of Ghanaians profess to be Christians and I subscribe to Christianity too.

"Since I started delving into matters concerning the building of the National Cathedral as part of my constitutional mandate, when constituents vote for MPs, they vote for them to carry an oversight. The whole concept is an oversight, as Baron De Montesquieu espoused many years ago.
"For Democracy to function effectively, the three arms of government should check the others. Last week the Supreme Court made a major pronouncement on the treatment meted to the former Auditor General by the President.

"The Supreme Court said the President did not act in good faith. Those are the checks and balances we are talking about.

"So you can be the President, but the Supreme Court can let you know that what you did was wrong and so going forward you'll need to do better. That's the same thing with the responsibility of the Legislature," he said on Accra-based Okay Fm monitored by MyNewsGh.com