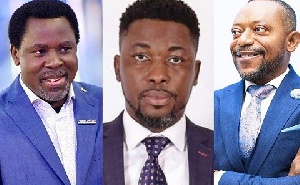 Prior to the 2016 elections, it was an open secret that the Founder and leader of the Glorious Word and Power Ministry International, Reverend Isaac Owusu Bempah and Nigerian pastor, televangelist and philanthropist Temitope Balogun Joshua, commonly referred to as T. B. Joshua were at each other's throats over what till date is not known.
TB Joshua was at a point accused of secretly visiting Ghana in the last quarter of 2016 to help rig the polls in favour of then ruling National Democratic Congress (NDC) according Reverend Isaac Owusu Bempah during an appearance on Metro TV Good Evening Ghana.

But in a sharp rebuttal TB Joshua said on his official Facebook page "There are rumors on the internet stating that T.B. Joshua is in Ghana to offer spiritual guidance to political parties. Please know that these rumors are 100% false. T.B. Joshua is not in Ghana, he is in Nigeria. Do not listen to the father of lies".

The banter between the two persisted until sanity miraculously prevailed with both Men of God said to be the best of friends.

MyNewsGh.com has now gathered that controversial musician and supporter of the New Patriotic Party (NPP), Kwame Asare Obeng otherwise known as A Plus brokered the peace deal between the two in 2017.

He is said to have called the founder of the Synagogue Church of Nations (SCOAN) on phone and arranged for him to speak with his colleague in Ghana where they ironed out their differences and have been best of friends ever since.
A Plus who posted on his Facebook page how it all happened, said "A little over a year ago I negotiated a peace deal between my very good friend and big brother, Rev. Owusu Bempah and Prophet T.B Joshua. I arranged for both of them to speak on phone.

Prophet TB Joshua during the conversation invited Rev. Owusu Bempah to Nigeria. Have you heard any issue between them again? You people dey Facebook dey do mouth mouth. You know the things #halfmanhalfbosom can do?

I was taught negotiation skills by Dr. Adom at the University of Ghana Business School. I can even make Nana Addo shake hands with Agyarko well well ???????????????????????????????????????????????????

My sister Afia Schwarzenegger & Big brother Rev. Owusu Bempah, thank you for the respect and understanding. Atanfo ani awu????????????????????????????"