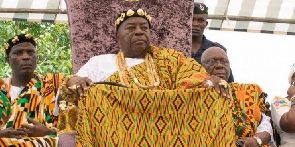 The sole mediator for the conflict resolution in Bimbilla, the Awomefia of the Anlo State, Togbe Sri III, has appealed to the two royal gates in Bimbilla to cooperate with him as he commences the process to find lasting peace in the area.
Tobge Sri III called on the two royal gates in separate meetings at the Regional Coordinating Council in Tamale as his first step in the process to restore peace in the Nanumba Traditional Area.

He assured the two gates and the government's delegation led by the Chieftaincy and Religious Affairs Minister, Kofi Dzamsi, that he will do his utmost best to bringing a perpetual peace to the Nanumba land and its people.

Togbe Sri III expressed worry over how chieftaincy conflict has affected the once food basket of Ghana, which he says affects not only the people of the area but the entire country.

"The Nunumba area is a food basket of Ghana. What I'm trying to say in this respect is that [it] is [an] agricultural area where a lot of [crops] are produced but because of the conflict, which has eaten deep into fabric of Nanumba society, food production has reduced drastically."

He recalled his stay in the Northern Region as the Regional Police Commander and described the Nanumbas as peace loving, which he said gives him hope for a smooth process in his mediation.
Togbe Sri III assured the two factions of his firmness during the process of resolving the problem without any interference from either internal or external influences to ensure the right thing is done.

He disclosed that all deliberations towards the road map to peace in Bimbilla will take place in Accra but appealed to the two factions to make themselves available should the need arise for a successful mediation.

The factions in their speeches also assured Togbe Sri III of their cooperation but asked that the mediator to be wary of people who would want to disturb the process.

The two royal gates, Dasana Andani family and Nakpaa Naa Dawuni family, have been in a violent struggle over the rightful ruler of Bimbilla.
Related Articles: