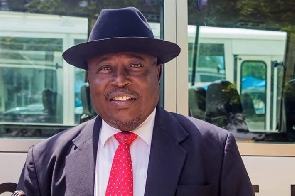 Special Prosecutor, Martin A. B. K. Amidu, has challenged the Acting Director of Public Affairs of the Parliamentary Service, Kate Addo, to provide evidence of him stating that "Parliament is sabotaging and obstructing his work concerning the prosecution of a former Minister of State and Member of Parliament, Hon. Mahama Ayariga."
According to him, in his latest 45-minute interview with celebrated journalist and broadcaster, David Ampofo, on "Time With David", he did not make any allegations stating that Parliament is sabotaging or obstructing his work or did he mention the name of any former Minister and Member of Parliament as the Acting Director of the Parliamentary Service falsely attributes to him.

In a statement copied to GhanaWeb, Mr Amidu explained that "On 6th June, 2019 the Office of the Special Prosecutor issued a press release in response to a concoction by the Majority Leader, Hon. Osei Kyei Mensah-Bonsu stating that the Office of the Special Prosecutor has a tall list of Members of Parliament to prosecute as a reason why the Leadership of Parliament invited and met the Special Prosecutor with his Deputy on 3rd June 2019. This press release is on the website of the Office of the Special Prosecutor for all who care to read."

He said, "The Acting Director of Public Affairs of Parliament who signed the press release allegedly on behalf of the Parliamentary Service did not attend the meeting between the Leadership of Parliament on the one hand and the Deputy Special Prosecutor and the Special Prosecutor on the other hand. She, therefore, has no personal knowledge of what took place at the meeting she writes about in the press release."
He, however, stated that Kate Addo's statements contained in her press release are pure and simply hearsay statements upon which no reasonable person would place any credibility on.

Read the Special Prosecutor's full statement below