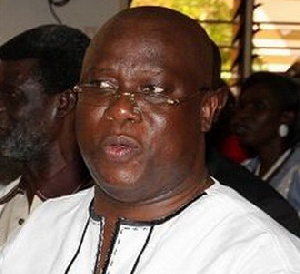 Thu, 12 Sep 2013 Source: peacefmonline
Joseph Ade Coker, Greater Accra Regional Chairman of the National Democratic Congress, has described as "misleading" the banner headline of yesterday's edition of the New Statesman, which "created the impression that I had warned the likes of Alban Bagbin, Kwesi Ahwoi and Mohammed Mumuni" in respect of who leads the party as the presidential candidate in the 2016 elections.
"I never warned Bagbin, Ahwoi or Mumuni. In fact, I didn't warn anybody," he stated in a complaint to the paper yesterday.

Under the banner headline "Ade Coker Warns Bagbin, Ahwoi Et Al – As Battle For Control of NDC Heats Up," the New Statesman yesterday reported that the growing tension in the NDC had risen after Mr Ade Coker said the party would not allow anybody to contest President John Dramani Mahama for the party's 2016 presidential candidate slot.

Speaking on a local radio station, the NDC Regional Chairman said the party would maintain President Mahama to contest the 2016 presidential election for another four-year term unopposed, so that he could achieve his constitutionally mandated eight-year tenure as president.

"We in the NDC will not allow anybody to contest the president in 2016 and even if the party members disagree, I personally will oppose that and make sure the president goes unopposed," the story quoted him.

While he had no problem with the content of the story, Mr Ade Coker yesterday told our editor the headline of the story sought to create a different impression about what he had said.
"Yes, I said our party members should allow President Mahama to contest the 2016 election unopposed, just as President Kufuor and President Obama were allowed to run for their second terms without any internal contest. I was coming from the background that it did not help the cause of the party when Mrs Rawlings contested the late President John Mills for the party's 2012 presidential candidate slot. But in all these, I never mentioned anybody's name, just as I didn't issue any warning," he stated.

The story reported a move by some big wigs in the NDC, such as Enoch Teye Mensah and Cletus Avoka, to rally behind a candidate to challenge President Mahama. The two gentlemen, according to sources within the party, are canvassing for their fellow "wise man", Alban Bagbin, as one of the candidates to contest President Mahama for the flagbearership slot in 2016.

The New Statesman can also report that Mohammed Mumuni, Secretary General of the Africa Caribbean Pacific group of states, is one man who will surely contest the flagbearership of the NDC come 2016.

Ekwow Spio Garbrah and former deputy Chief of Staff, Alex Segbefia, are also feverishly preparing and "testing the grounds" to determine their popularity ahead of the contest.
Source: peacefmonline