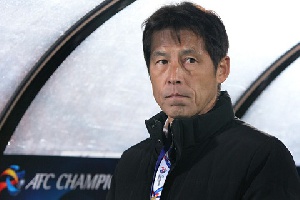 Japan coach Akira Nishino insists defeat to Ghana in an international friendly has shown him lots of things they must do before going into the World Cup.
Japan lost 2-0 to Ghana on Wednesday at the Nissan Stadium in Yokohama on Wednesday.

For Japan, the game is part of their preparations going into World Cup next month.
"Some things worked and some things didn't, and the things that didn't led to this result," said Nishino.

"I was able to try out a lot of things and I was able to look at a lot of players, but we were looking to win the game and the fact that we didn't is disappointing. As time went on things picked up, but we didn't start the game well. We weren't all on the same page."